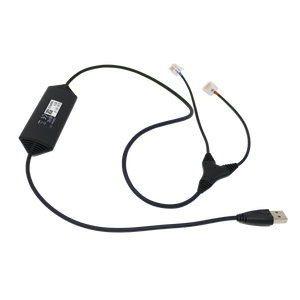 Imagine investing in a wireless headset only to find out you still have to be next to your phone to answer the call? We think that is not productive so you can add an EHS cable so you answer and end calls directly from your headset while you step away to grab a much needed cup of coffee :-).
The Jabra 14201-30 Link 30 EHS cable allows you to connect your Jabra wireless headset to your Cisco or other USB enabled desk phones and gives you the ability to answer and end calls while away from the desk.
Certified Renewed
This product has passed our certified renewed process and includes a 1-year Renewed Headsets advanced replacement warranty. In order for products to pass they are rigorously tested, cosmetically evaluated to grade A, professionally cleaned and sanitized, includes new parts, always new batteries, and professionally packaged.